Mashhad
Nov 22.2023
Experience the Beauty and Culture of Mashhad
Mashhad, a city located in the northeast region of Iran, does not have any UNESCO World Heritage Sites. However, the city is still a popular destination for tourists from all over the world who are interested in exploring Iran's rich history, culture, and natural beauty.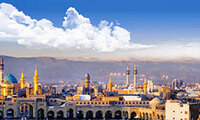 Discover the Majestic Shrine of Imam Reza and More in Mashhad
Mashhad is known for its religious significance, as it is home to the holy shrine of Imam Reza, one of the twelve Shia Imams. The shrine is a major pilgrimage site for Shia Muslims and is the largest mosque in the world by area. Visitors can explore the stunning architecture of the shrine as well as learn about its history and significance in Shia Islam.In addition to the shrine of Imam Reza, Mashhad is also home to several other historic sites and museums that are worth visiting. The Naderi Museum is dedicated to the life and legacy of Nader Shah, one of Iran's most famous rulers, while the Goharshad Mosque is renowned for its intricate tile work and design.
Mashhad is also surrounded by beautiful natural scenery, including the Binalood Mountains, which offer hiking and trekking opportunities for outdoor enthusiasts. The city is also home to several parks and gardens, such as Mellat Park and Koohsangi Park, which are popular destinations for picnics and relaxation.
If you're planning an Iran tour and want to experience the beauty and culture of Mashhad, be sure to book your trip with Trip to Persia. As a leading tour operator in Iran, Trip to Persia offers a wide range of tour packages that cater to the needs of all types of travelers. Whether you're interested in history, culture, or natural beauty, they can help you create the perfect itinerary for your trip. With Trip to Persia as your tour operator, you can rest assured that your trip to Mashhad will be unforgettable. Their expert guides and personalized itineraries ensure that you'll see all of the historic sites that the city has to offer as well as experience the local culture and cuisine. So what are you waiting for? Book your Iran tour to Mashhad with Trip to Persia today and discover the beauty and culture of this amazing city for yourself.