Gilan
Nov 22.2023
Unveiling the Historical and Cultural Treasures
Gilan, located in northern Iran, offers an unforgettable journey filled with rich history, magnificent nature, and unique cultural treasures. With Journey to Persia as your guide, delve into the captivating world of this beautiful region.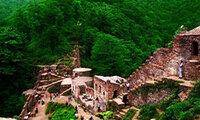 Uncover the Historical and Cultural Treasures
Gilan bears witness to Iran's rich history. Visit ancient cities such as Masuleh and Rasht, where you can immerse yourself in the historical atmosphere and learn about the traditions and customs of this unique region. Explore the mausoleum of Sheikh Hilali in Masuleh, which stands as a historical and cultural symbol of Gilan.
Breathtaking Nature
Gilan is renowned for its captivating nature. Situated on the Caspian Sea coast, this region offers stunning beaches, picturesque mountains, and lush forests. Visit the Alborz National Park and marvel at its breathtaking landscapes, mountain rivers, and waterfalls.
Hospitality and Authentic Experiences
In Gilan, you will be greeted by friendly locals who are eager to share their culture and traditions. Sample the local Gilani cuisine, known for its delicious seafood dishes and unique regional specialties. Discover the art of Gilani crafts, such as embroidery and carpet weaving.
Plan Your Trip with Journey to Persia
Planning a trip to Gilan is made easy with Journey to Persia. Our team of experts will help you create a personalized itinerary, taking into account your preferences and interests regarding attractions, accommodation, and transportation. We will provide you with information on the best places to stay, dine, and offer convenient transportation options for getting around the region.
Explore Historical and Cultural Treasures
Gilan is rich in historical and cultural heritage. Visit the Gilan Fortress, one of the most famous historical landmarks of the region. Explore the architectural splendor of Masuleh-e Mordkay, dating back to the Sassanid era. Stroll through the narrow streets of Rasht and experience the atmosphere of an ancient city.
Embrace the Stunning Nature
Gilan is renowned for its picturesque landscapes. Visit Jangaleh Rudkhan, one of Iran's largest forested areas, where you can immerse yourself in the beauty of nature and hike through tree-lined trails. Explore Lake Almas in the Alborz Mountains and admire its tranquility and beauty.
Immerse Yourself in Local Culture and Gastronomy
Gilan is known for its hospitality and unique culture. Visit Gilani villages, where you can interact with locals and learn about their daily lives. Taste local delicacies such as Gilani pilaf and shirin-e Gilan, and savor the richness of flavors in Gilani cuisine.
Plan Your Gilan Tour Today
If you dream of an exciting journey to Gilan, turn to Journey to Persia for organizing your trip. We will help you create a unique itinerary that includes all the major attractions, and provide you with the best options for accommodation and transportation. Plan your journey to Gilan today and discover the charms of this beautiful region in Iran.