Isfahan
Nov 22.2023
Explore the Beauty and Grandeur of Isfahan, Iran
Discover the Wonders of Isfahan with Trip to Persia
Isfahan, also known as "Half of the World," is a city located in central Iran that is famous for its stunning Islamic architecture. It is a must-visit destination for anyone interested in exploring Iran's rich history and culture. The city's captivating architecture has earned it a reputation as one of the most beautiful cities in the world.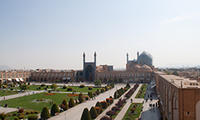 The heart of the city is Naqsh-e Jahan Square, one of the largest city squares in the world and a UNESCO World Heritage Site. The square is surrounded by magnificent buildings, including the Imam Mosque, Ali Qapu Palace, and Sheikh Lotfollah Mosque. The Imam Mosque is a masterpiece of Islamic architecture, with its intricate mosaic, calligraphy, and muqarnas (decorations made of plaster) that have made it one of the most impressive buildings in the world. Ali Qapu Palace is another must-see attraction, with its grand entrance and impressive music hall. Sheikh Lotfollah Mosque with its exquisite mosaic and magnificent dome is a masterpiece of Safavid architecture.
The historical bazaar is another must-visit place in Isfahan, offering a wide selection of handmade crafts and souvenirs. The bazaar is a labyrinth of narrow alleys and covered arcades where visitors can find everything from Persian carpets and textiles to jewelry and souvenirs.
Chehel Sotoun Palace is another beautiful palace in Isfahan that visitors should not miss. The palace has 20 columns reflected in a large pool, creating a stunning visual effect. The palace's halls also feature beautiful frescoes and paintings depicting scenes from the Safavid era.
Jame Mosque is one of the oldest and largest mosques in Iran and one of the most important examples of Islamic architecture in the world. The mosque has a magnificent courtyard, intricate mosaic, and beautiful calligraphy.
The Si-o-Se Pol and Khaju Bridges are also popular attractions in Isfahan. The bridges span the Zayande River and are perfect for evening walks. Si-o-Se Pol Bridge, also known as the Bridge of 33 Arches, is particularly impressive with its 33 arches and beautiful lighting at night.
In conclusion, Isfahan is a city of beauty and grandeur that offers visitors a glimpse into Iran's rich history and culture. With the help of a reliable tour operator like Trip to Persia, you can organize a customized tour of Isfahan that caters to your unique interests and travel needs. Visiting this city with its magnificent mosques, palaces, squares, and bridges is sure to leave you with unforgettable impressions and a sense of the beauty and grandeur of Islamic architecture.