Kerman
Nov 22.2023
A UNESCO World Heritage City in Iran
Kerman is a city in southeastern Iran that is home to several UNESCO World Heritage Sites, including the Bam Citadel and Shazdeh Garden. The city is also known for its rich cultural heritage and stunning architecture.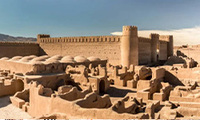 The Bam Citadel
The Bam Citadel is an ancient fortress that dates back to the 6th century BC. It is one of the largest mud-brick structures in the world and was partially destroyed in an earthquake in 2003. However, the citadel remains an impressive sight and a testament to the ingenuity of ancient Iranian architecture.
The Shazdeh Garden
The Shazdeh Garden is a beautiful Persian garden that dates back to the 19th century. It is known for its stunning landscape design, water features, and lush greenery. Visitors can stroll through the garden and enjoy the peaceful atmosphere while admiring the intricate details of the architecture.
The Ganjali Khan Complex
The Ganjali Khan Complex is a historic building complex that includes a bathhouse, mosque, and bazaar. Built in the 17th century, the complex is a fine example of Safavid-era architecture and is a popular destination for tourists looking to immerse themselves in Iran's rich cultural heritage.
Other Attractions in Kerman
Other attractions in Kerman include the Jameh Mosque of Kerman, one of the oldest mosques in Iran, and the Rayen Citadel, another impressive mud-brick fortress that dates back to the 10th century. Visitors can also explore the historic bazaar and enjoy the local handicrafts, textiles, and spices that are on offer.
If you're planning an Iran tour and want to explore the beauty and culture of Kerman, be sure to book your trip with Trip to Persia, a leading tour operator in Iran. With their expert guides and personalized itineraries, Trip to Persia can help you make the most of your trip and ensure that you see all of the UNESCO World Heritage sites that Kerman has to offer.
In conclusion, Kerman is a fascinating city that is rich in history, culture, and architecture. With its impressive UNESCO World Heritage sites, including the Bam Citadel and Shazdeh Garden, Kerman is a must-visit destination on any Iran tour. And with Trip to Persia as your tour operator, you can rest assured that your trip will be memorable and enjoyable.