Kermanshah
Nov 21.2023
Discover the Rich History and Culture of Kermanshah - A Must-Visit Destination in Iran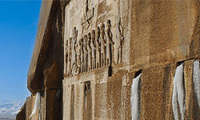 Explore UNESCO World Heritage Sites and Natural Beauty in Kermanshah
Kermanshah, located in western Iran, is a captivating city renowned for its rich history, vibrant culture, and stunning architecture. With numerous UNESCO World Heritage Sites, it is an essential stop on any Iran tour.
One of Kermanshah's notable attractions is Taq-e Bostan, featuring intricate rock reliefs and sculptures from the Sassanid Empire. Another prominent UNESCO site is the Bisotun Inscription, an ancient cliff-side carving dating back to the Achaemenid Empire. Its multilingual inscription offers a glimpse into ancient civilizations.
The city also boasts other historical sites like the Tagh-e Shahrestan, a Sassanid tower, and the Temple of Anahita, dedicated to the goddess of water and fertility.
For an immersive Kermanshah experience, trust Trip to Persia, a leading tour operator in Iran. Their expert guides and personalized itineraries ensure you make the most of your visit, exploring the UNESCO sites and more.
Kermanshah's natural beauty is equally captivating, with parks and gardens like the Paveh Protected Area, home to rare wildlife and plants.
In conclusion, Kermanshah's rich history and culture make it an unmissable destination on your Iran tour. From the Bisotun Inscription to the Tagh-e Shahrestan, explore the UNESCO World Heritage Sites with Trip to Persia. Book your Iran tour today and immerse yourself in the beauty and culture of this remarkable city!