Shiraz
Nov 24.2023
Explore the rich history and culture of Shiraz, Iran.
Shiraz, located in southwestern Iran, is a city steeped in rich history and culture, making it a must-visit destination during any tour of Iran. The city boasts several UNESCO World Heritage sites, making it a popular destination for travelers interested in exploring the cultural and historical heritage of the country.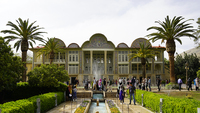 Discover the sights and UNESCO World Heritage sites in Shiraz.
One of the most famous UNESCO World Heritage sites in Shiraz is the ancient ruins of Persepolis. This impressive complex was once the ceremonial capital of the Achaemenid Empire and features a collection of magnificent ruins, including impressive columns and exquisite carved decorations. Visitors can explore the numerous ruins on-site and learn about its fascinating history through tours and exhibitions.
Another popular UNESCO World Heritage site in Shiraz is the beautiful Eram Garden. This stunning garden is a collection of vibrant flowers and plants, as well as diverse fruit trees. Visitors can stroll along the garden's numerous pathways and enjoy its peaceful atmosphere, making it a popular spot for locals and tourists alike.
Nasir al-Mulk Mosque is another attraction worth visiting in Shiraz. This beautiful mosque, also known as the Pink Mosque, features stunning stained glass windows that cast vibrant light onto the interior of the mosque. Visitors can admire the intricate mosaic and ornamental design of the mosque, making it a popular spot for photographers and architecture enthusiasts.
For those interested in traditional Persian architecture, the Vakil Bazaar is a must-visit. This bustling market is a collection of shops and stalls where you can buy everything from spices and textiles to jewelry and souvenirs. Visitors can explore the maze-like alleys of the bazaar and admire its magnificent brickwork and exquisite arches, making it a popular spot for those interested in Persian culture.
Regardless of your interests, Shiraz offers something for everyone. From magnificent UNESCO World Heritage sites to rich culture and history, this city is a must-visit during any tour of Iran. Why not book your trip now with Trip to Persia and discover all that this amazing city has to offer.