Yazd
Nov 22.2023
Discover the history and culture of Yazd, Iran.

Yazd, a city in the desert region of central Iran, is an exciting destination that should be included in any itinerary of Iran. Yazd is known for its well-preserved historical architecture, unique culture, and captivating Zoroastrian heritage. In fact, Yazd is home to several UNESCO World Heritage sites that are a must-visit for every tourist traveling to Iran.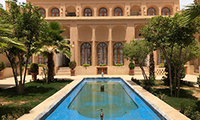 Historical City of Yazd: Centuries of Preserved Culture
One of the most popular UNESCO World Heritage sites in Yazd is the ancient city of Yazd. This historical city dates back to the Sasanian era and has been continuously inhabited for over two millennia. The city is renowned for its traditional architecture, including windcatchers, qanats, and badgirs, which have been used for centuries to keep the city cool in the scorching desert heat. Visitors can explore the narrow alleyways and historic buildings of the city and immerse themselves in its rich culture and history.
Zoroastrian Heritage: Fire Temple and Towers of Silence
Another UNESCO World Heritage site in Yazd is the Zoroastrian Fire Temple and Towers of Silence. The Fire Temple is a sacred place for Zoroastrians, who believe fire symbolizes purity and wisdom. The Towers of Silence, located on a hill outside the city, were used by Zoroastrians for the disposal of the deceased. Visitors can learn about Zoroastrian religion and culture and gain insights into their unique burial rituals.
Amir Chakhmaq Complex: An Iconic Symbol of Architectural Heritage
The Amir Chakhmaq Complex is also a must-visit in Yazd. This impressive complex includes a mosque, bazaar, and caravanserai, and is a symbol of Yazd's rich architectural heritage. The complex is particularly beautiful at night when the facade is illuminated, creating a stunning spectacle for visitors.
Other attractions in Yazd.
Other attractions in Yazd include the Jame Mosque and Dowlat Abad Garden. The Jame Mosque is one of the oldest mosques in Iran and is renowned for its majestic architecture and decorations. Dowlat Abad Garden is a beautiful historical garden where visitors can enjoy tranquility and the beauty of the surrounding nature.
Traditional Bazaar of Yazd: Enchantment of Local Culture
Yazd is also known for its traditional bazaar, which has been a center of trade and commerce for centuries. The bazaar offers a variety of goods, including carpets, jewelry, ceramics, fabrics, and local products. Visitors can immerse themselves in the atmosphere of local culture, try traditional dishes, and purchase unique souvenirs.
Trip to Persia: Your Reliable Tour Operator in Iran
If you are planning to visit Yazd and discover its wealth and culture, Trip to Persia, a leading tour operator in Iran, can assist you in organizing your trip. They offer various tours and packages tailored to your preferences and interests, ensuring you have an unforgettable experience in Iran.
Contact Trip to Persia to book your journey to Yazd and explore the history, architecture, and culture of this amazing city in Iran.