Abbasi Hotel
Abbasi Hotel, the most magnificent and oldest hotel in Isfahan, is an excellent choice for travelers visiting the city, offering a charming environment alongside many helpful amenities that are designed to enhance your stay. Its 225 rooms, including Safavid and Qajar suites, provide a glimpse into the city's rich history. Located close to popular landmarks like Khajou Bridge (1.2 mi) and Vank Cathedral (1.4 mi), guests of Abbasi Hotel can easily experience some of Isfahan's most well-known attractions. The guest rooms offer a flat-screen TV, a minibar, and air conditioning, and free internet access is available throughout the hotel. Abbasi Hotel also offers a range of amenities, including a concierge and room service. Guests can enjoy a pool and free breakfast during their visit, and there is free parking available to guests. While you're here, be sure to check out some of the nearby Italian restaurants, including Hermes Restaurant & Cafe, Liyana Cafe, and Cinema Sequence Cafe, all of which are a short distance from Abbasi Hotel. If you are interested in exploring Isfahan, some of the nearby attractions include Naqshe Jahan Square (Shah Square) (0.6 mi), Shah Mosque (0.5 mi), and Sheikh Lotfollah Mosque (0.6 mi), all of which are within walking distance of Abbasi Hotel.
Near Places
---
Near Transportation
Destination Near Abbasi Hotel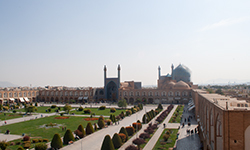 Isfahan
---
Explore the Beauty and Grandeur of Isfahan, Iran
Discover the Wonders of Isfahan with Trip to Persia
Isfahan, also known as "Half of the World," is a city located in central Iran that is famous for its stunning Islamic architecture. It is a must-visit destination for anyone interested in exploring Iran's rich history and culture. The city's captivating architecture has earned it a reputation as one of the most beautiful cities in the world.
Tours Including Abbasi Hotel
Other Isfahan hotels you might interested