Parsian Kowsar Hotel
Parsian Kowsar Isfahan Hotel is one of the biggest hotels in Isfahan, offering rooms with a picturesque view of Zayandehrud River. With 225 rooms, it is among the largest hotels in Isfahan, and boasts 4 banquet halls for hosting guests. The hotel's 5 restaurants and cafe serve a diverse range of Iranian and international cuisine. Guests of Parsian Kowsar Isfahan Hotel can also take advantage of amenities such as laundry facilities, a gym, and a dental clinic during their stay.
Near Places
---
Near Transportation
Parsian Kowsar Hotel Amenities
Destination Near Parsian Kowsar Hotel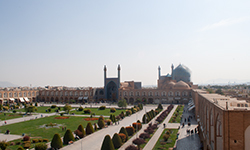 Isfahan
---
Explore the Beauty and Grandeur of Isfahan, Iran
Discover the Wonders of Isfahan with Trip to Persia
Isfahan, also known as "Half of the World," is a city located in central Iran that is famous for its stunning Islamic architecture. It is a must-visit destination for anyone interested in exploring Iran's rich history and culture. The city's captivating architecture has earned it a reputation as one of the most beautiful cities in the world.
Tours Including Parsian Kowsar Hotel
Other Isfahan hotels you might interested