Chamran Grand Hotel Shiraz
Chamran Grand Hotel, the tallest hotel in the culturally rich and historic city of Shiraz, is situated in the picturesque district of Ghasrodasht. With its stunning views of Shiraz and the surrounding heavenly gardens, the hotel embodies the expertise and experience of hospitality professionals. It adheres to international service quality standards, ensuring a memorable stay in a serene and tranquil environment.
Near Places
---
Near Transportation
Chamran Grand Hotel Shiraz Amenities
Destination Near Chamran Grand Hotel Shiraz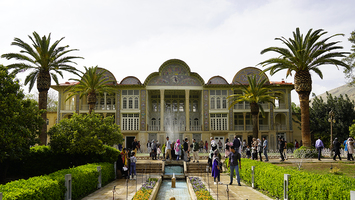 Shiraz
---
Explore the rich history and culture of Shiraz, Iran.
Shiraz, located in southwestern Iran, is a city steeped in rich history and culture, making it a must-visit destination during any tour of Iran. The city boasts several UNESCO World Heritage sites, making it a popular destination for travelers interested in exploring the cultural and historical heritage of the country.
Tours Including Chamran Grand Hotel Shiraz
Other Shiraz hotels you might interested