Niyayesh Hotel Shiraz
Niyayesh Hotel Shiraz, renowned for its beauty, showcases a stunning blend of trees, stained glass windows, and a tranquil courtyard with a fountain and red fish. This historic 2-star hotel, known for hosting literary gatherings and housing the first Shiraz newspaper, offers 77 rooms across 2 floors.
Established in 1388 (2009) and renovated in 2019, Niyayesh Hotel Shiraz welcomes guests to a traditional house with architectural features designed for natural heating and cooling, ensuring comfort in all seasons.
The hotel features a restaurant and a traditional teahouse for convenient dining options. Alternatively, Katemass Restaurant and Sharzeh Restaurant are recommended choices nearby. Another advantage of Niyayesh Hotel Shiraz is its location outside the traffic restricted area. With its proximity to Shah Cheragh, you can even view the shrine from the hotel's courtyard. Furthermore, the limited vehicle traffic within 150 meters ensures a peaceful environment without street noise.
Near Places
---
Near Transportation
Niyayesh Hotel Shiraz Amenities
Destination Near Niyayesh Hotel Shiraz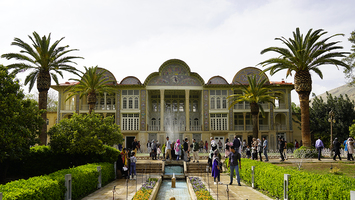 Shiraz
---
Explore the rich history and culture of Shiraz, Iran.
Shiraz, located in southwestern Iran, is a city steeped in rich history and culture, making it a must-visit destination during any tour of Iran. The city boasts several UNESCO World Heritage sites, making it a popular destination for travelers interested in exploring the cultural and historical heritage of the country.
Tours Including Niyayesh Hotel Shiraz
Other Shiraz hotels you might interested