Royal Hotel Shiraz
The Royal Hotel is located in close proximity to the Quran Gate in Shiraz, a city renowned for its rich history. This prime location allows guests to easily explore the city's top tourist attractions, including the Quran Gate, Zandiyeh Complex, and the tombs of famous poets Hafez and Saadi. The hotel offers a wide range of facilities to cater to guests' needs, such as complimentary high-speed internet, free parking, a bar, restaurant, minibar, laundry service, fitness club, swimming pool, in-room dining, sauna, Jacuzzi, and 24-hour taxi service. Additionally, guests can enjoy the hotel's swimming pool, barbershop, beauty salon, and souvenir shop. With its convenient location and extensive amenities, The Royal Hotel is an ideal choice for guests seeking a comfortable and memorable stay.
Near Places
---
Near Transportation
Royal Hotel Shiraz Amenities
Destination Near Royal Hotel Shiraz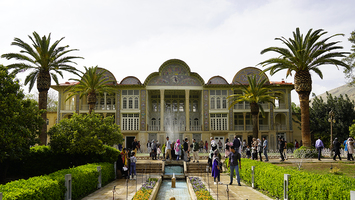 Shiraz
---
Explore the rich history and culture of Shiraz, Iran.
Shiraz, located in southwestern Iran, is a city steeped in rich history and culture, making it a must-visit destination during any tour of Iran. The city boasts several UNESCO World Heritage sites, making it a popular destination for travelers interested in exploring the cultural and historical heritage of the country.
Tours Including Royal Hotel Shiraz
Other Shiraz hotels you might interested