Shiraz Grand Hotel
As a five-star hotel and undoubtedly one of the most luxurious hotels in Shiraz, the Grand Hotel is ready to receive guests with its suitable facilities. Luxurious rooms and standard beds, beautiful passageway with unique harmony of color and light, spectacular pool and aquatic complex, revolving restaurant, and modern and standard halls and professional staff guarantee accommodation experienced in European hotels.
Shiraz Hotel:
A luxury hotel situated in the heart of the birthplace of Persian culture, is conveniently located just 10 minutes away from all major tourist attractions. Guests can enjoy free Wi-Fi and access to modern strength and cardio equipment in the spacious fitness center. The on-site Sports Club also features a sauna and pool for guests to relax and unwind. The hotel's guests' favorite feature is the panoramic view of the city, which can be enjoyed from the fitness center and all east-side rooms, as well as from the rooftop terrace that offers over 1000 square meters of indoor and outdoor space. At Shiraz Hotel, hospitality is an experience in itself that will exceed your expectations.
Near Places
---
Near Transportation
Shiraz Grand Hotel Amenities
Destination Near Shiraz Grand Hotel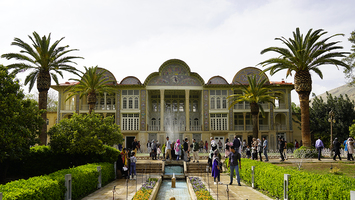 Shiraz
---
Explore the rich history and culture of Shiraz, Iran.
Shiraz, located in southwestern Iran, is a city steeped in rich history and culture, making it a must-visit destination during any tour of Iran. The city boasts several UNESCO World Heritage sites, making it a popular destination for travelers interested in exploring the cultural and historical heritage of the country.
Tours Including Shiraz Grand Hotel
Other Shiraz hotels you might interested