Zandiyeh Hotel
The Modern Zandiyeh Hotel, a true Iranian style hotel, is located at the heart of Shiraz city, near the historical and invaluable complex of Zandiyeh, which served as the capital of the Zand Dynasty over two hundred years ago. The hotel's unique appearance is deeply inspired by Shiraz's historical architecture, creating a stunning and relaxing atmosphere for guests. Additionally, guests can enjoy a breathtaking view of the sky-towering brick citadel, the magnificent Zand Royal Palace (now a museum), the stunning mosque with its azure blue minarets, and the beautiful roofed Vakil Bazar, which extends from north to south of the city.
Near Places
---
Near Transportation
Destination Near Zandiyeh Hotel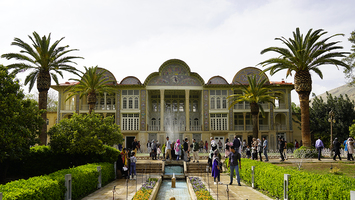 Shiraz
---
Explore the rich history and culture of Shiraz, Iran.
Shiraz, located in southwestern Iran, is a city steeped in rich history and culture, making it a must-visit destination during any tour of Iran. The city boasts several UNESCO World Heritage sites, making it a popular destination for travelers interested in exploring the cultural and historical heritage of the country.
Tours Including Zandiyeh Hotel
Other Shiraz hotels you might interested