Arg-e Jadid Hotel Yazd
Situated near the historic Zoroastrian site of the Towers of Silence, the recently opened four-star Arg-e Jadid Hotel offers a serene and renowned location. It takes approximately 15 minutes by car to reach the Old Town from the hotel. With 64 double rooms, 4 suites, 2 wedding halls, 2 restaurants, and 2 conference rooms, the hotel provides ample accommodation and event facilities.
Near Places
---
Near Transportation
Arg-e Jadid Hotel Yazd Amenities
Destination Near Arg-e Jadid Hotel Yazd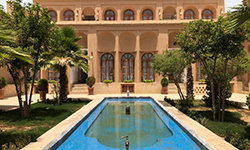 Yazd
---
Discover the history and culture of Yazd, Iran.

Yazd, a city in the desert region of central Iran, is an exciting destination that should be included in any itinerary of Iran. Yazd is known for its well-preserved historical architecture, unique culture, and captivating Zoroastrian heritage. In fact, Yazd is home to several UNESCO World Heritage sites that are a must-visit for every tourist traveling to Iran.
Tours Including Arg-e Jadid Hotel Yazd
Other Yazd hotels you might interested