Dad Hotel Yazd
Located in the heart of the ancient city of Yazd, the Dad Hotel is a four-star establishment that seamlessly blends the traditional ambiance of a Persian house with modern amenities. Originally built in 1928 and renovated in 2007, the hotel offers tastefully decorated rooms in a traditional style, complete with all the necessary amenities.
Near Places
---
Near Transportation
Destination Near Dad Hotel Yazd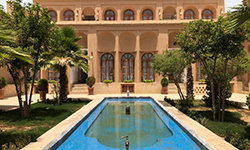 Yazd
---
Discover the history and culture of Yazd, Iran.

Yazd, a city in the desert region of central Iran, is an exciting destination that should be included in any itinerary of Iran. Yazd is known for its well-preserved historical architecture, unique culture, and captivating Zoroastrian heritage. In fact, Yazd is home to several UNESCO World Heritage sites that are a must-visit for every tourist traveling to Iran.
Tours Including Dad Hotel Yazd
Other Yazd hotels you might interested