Safaiyeh Hotel Yazd
The Safaiyeh Hotel, a five-star establishment, is conveniently situated near Yazd's historical center and major attractions. It comprises a new building as well as a charming structure nestled within the garden. With its extensive years of experience, the hotel has earned a reputation as one of the finest in the city.
Combining modern amenities with traditional architecture, the hotel ensures a delightful stay for its guests. It boasts 192 rooms, a swimming pool, a restaurant, and a conference room."
These changes maintain the original content while refining the sentence structure and word choice for a smoother reading experience.
Near Places
---
Near Transportation
Safaiyeh Hotel Yazd Amenities
Destination Near Safaiyeh Hotel Yazd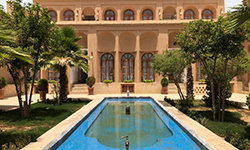 Yazd
---
Discover the history and culture of Yazd, Iran.

Yazd, a city in the desert region of central Iran, is an exciting destination that should be included in any itinerary of Iran. Yazd is known for its well-preserved historical architecture, unique culture, and captivating Zoroastrian heritage. In fact, Yazd is home to several UNESCO World Heritage sites that are a must-visit for every tourist traveling to Iran.
Tours Including Safaiyeh Hotel Yazd
Other Yazd hotels you might interested