Ahvaz Daily Tours
Ahvaz is one of the ancient cities of southern Iran where you have an opportunity to visit, among other things, Susa which is the historical heart of Iran dating back to 4000 BC.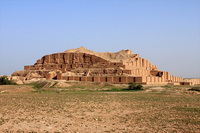 But outside the Iran classic route, there are cities like Ahvaz in Khuzestan province, where there are many attractions to visit both in Ahvaz and one or two hours away from Ahvaz city.
Our suggestions include one-day and two-day tours around these main cities, where you can return to your hotel or go to the airport after sightseeing.
It would be a pity to come to Ahvaz and not visit Choghazanbil Ziggurat Temple (Iran's first historical monument registered in UNESCO).
When you go to Choghazanbil, the valuable museum of Haft Tape, the Achaemenid palace and grounds of Shush, and the mills of Shushtar are on the way. You may not believe it, but in this one-day tour that starts from Ahvaz and ends in Ahvaz, you will visit three historical monuments of Iran's world UNESCO heritages.

Ahvaz Daily Tours related topics