Iran Rock Climbing Tour
If you enjoy rock climbing, there are many tall Rock walls for you to climb in Iran. The most famous of them is the Biston wall, which is located next to the 2,000-year-old historical complex registered by UNESCO and next to the famous 400-year-old West caravanserai.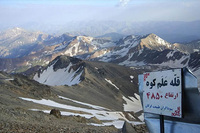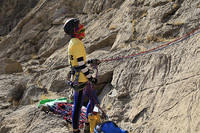 Northern and western parts of Iran are covered with rugged high mountains, offering many peaks over 4000 meters high, great vast massifs and world famous rock walls for climbers. Names like: Alam'Kouh, Bistoun, Yafteh or Dorfak are familiar names for professional rock climbers who dream of climbing in one the most beautiful and mountainous countries in the world.
From climbing in an altitude of over 4700 meters to climbing a 1200 meters high vertical rock wall along with providing professional equipments and guide are offered in our rock climbing tours.
Iran Rock Climbing Tour related topics