Iran Ski Tours
The idea of skiing in Iran may seem a little strange due to the country's international reputation as a regime not keen on decadent Western leisure concepts and also geographically as a hot, oil rich desert nation. Dig below these stereotypes and you will find a nation which is keen to ski and geographically with high mountains that have allowed the country to build some of the world's highest ski lifts and slopes in its high Alborz Mountains.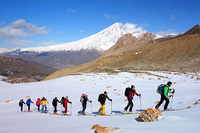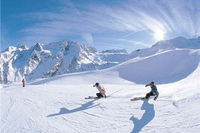 These high mountains have provided the best opportunity for skiing in Iran, so that many tourists know Iran as the cheapest destination for winter skiing.
Dezin and Tochal ski resorts near Tehran, provide the best opportunity for a winter trip to Iran just for skiing.
There are two mountain chains in Iran, the Alborz Mountains and the Zagros Mountains. Our trips go to the both mountains offering many peaks over 4000 meters, skiing in world known ski pistes and experience of incredible off-track or cross country skiing in Iran. The highest lift goes up to 3960m and offers a vertical from 1000-2000m. As if this wasn't enough the terrain is excellent for ski touring and by doing short walks from the top of the lift we can reach amazing skiing.
Iran is also blessed with up to seven meters (21 feet) of light, dry powder snow each winter and conditions between snowfalls are generally sunny. Indeed Iran has at least 25 ski areas – more now than ever before, several of them among the world's 20 highest in terms of their top lift heights. An extremely mountainous country, Iran has over a million square kilometers of highland terrain.
Iran Ski Tours related topics