Shiraz Daily Tours
Shiraz, known as the cultural capital of Iran. There is lots of hidden history and stories in Shiraz (Fars Province). Due to the years of experience and according to what tourists demand when traveling to Shiraz, "Trip to Persia" has designed 18 different tours in two major categories (Cultural/Historial and Adventure/Eco tours) to reveal the beauty of Fars to every single visitor.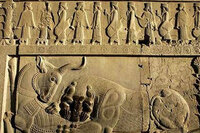 If you choose Shiraz daily tours, you can experience the sweetest moments in the city of poetry, literature and art with a professional guide.
In addition to Shiraz city tours, you can have a one-day tour of the UNESCO registered Sassanid route to visit Ardeshir Palace in Firozabad, Gor City, Dokhtar Castle, and the nomads of southern Iran.
Another option is the tour of the old Bishapur City and the Shapur Cave in Tang Chogan with its beautiful Sassanid reliefs, which take you deep into history.
If you are in Shiraz and have not seen Persepolis yet, the one-day tour of Persepolis, Naqsh Rostam, Naqsh Rajab and Pasargadae is the best option for you to see this most amazing relic left from the Persian Empire 2,500 years ago in the form of a Guided Tour. Professional guides will show you the details that it cannot be found in any book or website.
Shiraz Daily Tours related topics