Money & Cost in Iran
1 day ago
Tips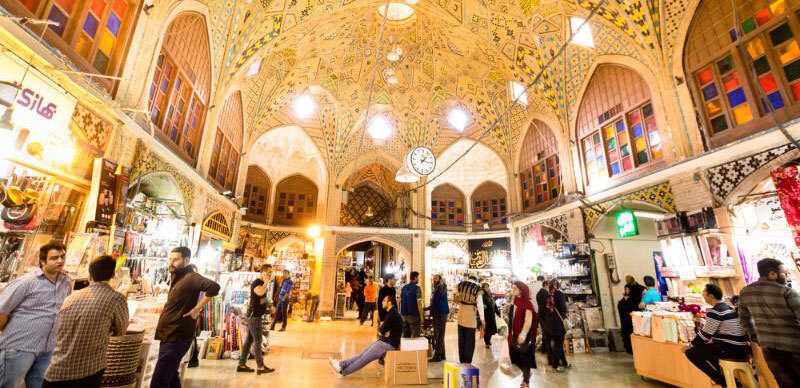 Money, Cost and Expense
Whether you're an all-the-frills luxury traveler or a backpacker traveling to Iran on a budget, you need to plan ahead with respect to the handling of the monetary units. In spite of the fact that Iran is one of the least expensive countries in the Middle East for travelers, the instability of exchange rates and an isolated banking system has made a few difficulties and inquiries concerning how to arrange and what to convey before coming to Iran.
Currency, Rials or Tomans?
Iranian money, Rials or Tomans? More often, this is the thing that confuses almost every traveler in Iran. In fact, there are two common currencies in Iran. The official currency is Iranian Rial (Rls or ریال) and the currency people use informally, is Tomans, however, Iran is going to switch its national currency back to Toman. Essentially, each Toman is equal to 10 Rials. So, 1000 Tomans equals to 10,000 Rials.
Iranians use Rials in coins, banknotes, official arrangements and use Tomans more commonly and informally. Rial is the printed currency but Toman is much more practical to use in daily life. In this way, when you need to purchase something at a store, pay for taxi and shopping, you are confronting Tomans, not Rials.
When a taxi driver says the price for arriving somewhere is 1000, he means Tomans, which implies that you'll be paying using a 10,000 Rial note. Since we have too many zeros in our bank notes (Check out Iran banknotes below), sometimes people even don't bother to say 5000 or 10,000 Tomans and prefer to say 5 or 10 Tomans! For this reason, the government is pondering to change the currency to make purchases more practical. You'll also quickly figure out the prices of items and the currency value you are being quoted. Thus, whenever you are paying something you can ask them and check it again to check whether it's the right cost.
Currency Information
Iranian Rial (IRR, symbol Rls).
Currently, eight different banknotes (100,000, 50,000, 20,000, 10,000, 5,000, 2,000, 1,000 and 500 Rials) and five different coins (5000, 2000, 1000, 500 and 250 Rials) are being used.
If the Iranian banknotes are not brittle, burnt or likely to fall apart, they are easy to read as the numbers and names are printed in Farsi and English. However, coins are only marked in Persian (Farsi).
Planning on shopping?
Shopping in Iran makes you feel good as you see that the Iranians are honest and reliable. Double-pricing for foreigners isn't common except in hotels where Iranians get a cheaper rate than tourists. In shops you generally don't have to worry about being overcharged. Moreover, bargaining isn't common outside of the bazaars. Tourists were once charged higher rates to enter historical monuments and museums but now prices are the same for everyone.
The one challenge you will face is that most Iranians don't talk in Rials; which is somewhat unusual since it is the printed currency. At first this is a bit confusing and it's easy to think you're being ripped off while in fact the price has just been quoted in Tomans and not Rials. Ask if you're unsure! Since you're a tourist in Iran, some Iranians may attempt to make things simpler and give you the value for your purchases in Rials or even in dollars to help you out.
Credit Cards and Traveler's Checks
Because of the sanctions against Iran even common, major credit cards like MasterCard and Visa and MasterCard are not accepted in Iran; so bring cash or use credit cards issued by local banks in Iran. It is not possible to exchange traveler's checks either.
Currency
What type of cash is acceptable? US dollars, Euro, and GBP are all accepted in Iran, no difference is expected in this case. You should change your money in a currency exchange office available all around the country. Use Iranian Rials when you are and shopping or eating (most places only accept Rials). Due to the unstable exchange rate, make sure you check the currency rate.
If you are from a country (some African or South American countries, for example) the currency of which is not among the major currencies traded in the exchange offices, change your money to US dollars or Euros. The Iranian Rial rate changes frequently so please contact a trusty money changer or check on the internet for currency converters, such as:
www.mesghal.com and http://finance.yahoo.com/currency-con…
Also, note that yahoo currency converter shows the official rate of currencies (rate in banks only) while the vast majority of the exchange offices apply the rate presented in mesghal.com website which is usually higher!
ATM:
Although Iran has a network of ATMs (cashpoint machines) all around the country and POSE machines even in many supermarkets, but you can only use credit/gift cards issued by local banks in Iran.
Banking Hours:
Sat-Wed 0730-1330, Thurs 0730-1230.
Currency Restriction:
The import and export of local currency is limited to Rs 5000,000. Any amount larger requires authorization from the Central Bank. The import of foreign currency is unlimited, provided that it is declared on arrival. The export of foreign currency is limited to the amount declared on arrival.
Currency Exchange:
The quickest and easiest way to change cash is at an official money-exchange office, where the whole deal is done in seconds, unlike in most banks where half an hour is considered fast. Exchange shops can be found in most cities, usually signed in English.
Changing money in an exchange shop is much safer than doing so with a street moneychanger. It is advisable to bring hard currency for exchange purposes.
Tipping
Tipping is not a big deal in Iran. In upmarket restaurants (mainly in Tehran) a 10% gratuity might be expected but everywhere else any money you leave will be a pleasant surprise. It's normal to offer a small tip to anyone who guides you or opens a building that is normally closed. If your offer is initially refused, you should persist in making it three times before giving up. It takes time till you adopt with concept of Tarof!
Iran Duty-Free
The following goods may be imported into Iran without incurring customs duty:
• A reasonable quantity of cigarettes.
• A reasonable quantity of perfume for personal use.
• Gifts about which the import duty/tax does not exceed the US $80.
The import of the following goods into Iran is strictly prohibited:
Alcohol, narcotics, arms and ammunitions, radio apparatus, CDs and DVDs, any written, printed or recorded materials against the Islamic and national beliefs of the country (fashion magazines and obscene publications), Satellite telephones, all horticultural and agricultural goods including seeds and soil, and gambling tools. Penalties for being in possession of narcotics are very severe.
Each passenger leaving the country is permitted to take his/her own personal luggage as well as Persian handicrafts, Gelims and a carpet (not bigger than 3 square meters) as long as they are not antiques. Export of all antiques such as gems, coins, and handwritten manuscripts is prohibited. To export musical instruments, a permit is required from the Ministry of Culture and Islamic Guidance.