Getting Iran Tourist visa for Americans
2 months ago
Tips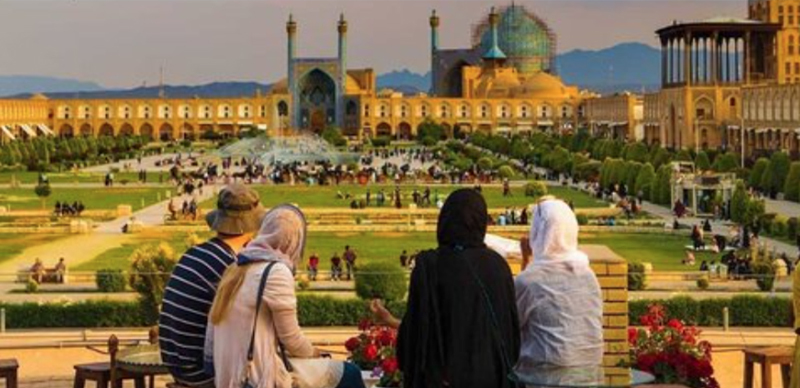 To enter Iran, American passport holders must apply only through a local Iranian travel agency and buy a tour package. But why is that and what are the steps for getting Iran tourist visa for Americans? In this article, we are going to answer these questions and also dig into the history of Iran and United States relations.

Enter Iran with Iran visa
Citizens of most countries need to get visa to enter Iran and also citizens of 8 countries can enter Iran visa-free. All of them can get Iran visa on arrival in Iran airports (except in force majeure situations like pandemics). But for citizens of America, Canada and Britain the visa procedure and requirements are a little different.
Dispute between Iran and US governments
Not only people who live in Iran and US but the whole world know about the disagreements between Iran and US governments. The first sparks of this dispute were ignited during the 1953 coup d'etat which led to the overthrow of the elected Prime Minister Dr. Mossadegh. The Iranians believe that the US and British governments were involved in the coup. After the Islamic Revolution of Iran in 1979, the disputes between the United States and Iran intensified and became so tense that the two countries finally officially severed ties in 1980, and this situation continues to this day.
Not allowing Iranians to enter the United States
Lack of political trust between the 2 governments has caused traveling limitations for the citizens of both countries. In September 2017 Trump enacted a travel ban on some Muslim counties, including Iran preventing them from entering the USA under any circumstances. It was hard enough for Iranians to visit America before and now with this travel ban it became totally impossible.
According to official statistics 1,500,000 Iranians live in the US which the new travel ban will affect most of them. Right now Iranians must go through complicated procedures to be able to enter America. Traveling to USA as a tourist is also prohibited for Iranians.

Friendly relationship between Iranian and American citizens
Despite the disagreements between the governments of Iran and the United States, the people of the two countries always had a friendly relationship. Americans have always been so amusing to Iranians that many Iranians dream of traveling to the USA. People of Iran also love American products and consider them as high quality goods.
On the other hand, thousands of Americans travel to Iran every year. We have had many American travelers who were surprised to be greeted by Iranians in such a hospitable way. The truth is Iranians are always thrilled to see an American in Iran!

The Iranian government tries to ensure the safety of American citizens while traveling to Iran
The main reason of the insistence of the Iranian government on recording the detailed information of Americans who like to visit Iran is to ensure their safety. Due to the controversial history between the two countries and also the existence of insecure groups in the region, the Iranian government needs to know the detailed itinerary of American travelers and be aware of their situation in all steps of their trip in order to better protect them. Buying a pre-organized tour package from a reliable local travel agency and being accompanied by professional licensed tour guides ensures the safety of American tourists even more.
The first step of getting Iran tourist visa for Americans: Booking a tour package
As an American, you must first contact a travel agency in Iran and let them handle all the procedures of your Iran visa and Iran tour.
-Specify your travel itinerary
-Assigning a professional tour guide
-Getting your Naja code (a code issued by Iran Traffic Police which the agency will get for you)
Note that Americans can travel to Iran in form of both private tours and group tours as they want.

Can Americans Get Iran Visa on Arrival?
Americans must submit their travel itinerary to Iran Ministry of Foreign Affairs and wait so the Iran government confirms their tour details. Since all these take time, getting Iran visa on arrival for Americans is not possible. Iran visa on arrival is also not available for 9 other countries and they must apply for their Iran visa before their arrival.

Americans concern about Iran Entry Stamp on their Passport
The common question of American and European travelers is "Does Iran visa stamp will be recorded on my passport?"
Donald Trump's travel ban stated that those American citizens and travelers from other allied countries will have difficulty entering the United States if they have traveled to Iran. This caused concern among tourists and businessmen who wanted to enter the United States regularly and also wanted to travel to Iran.
To solve this problem, the Iranian government announced that the Iran visa stamp and the entry information will be recorded on a separate piece of paper for travelers. In this way, American and other tourists who travel to Iran will not have any travel history record from Iran in their passports and can easily travel to the United States as usual.
Iran tourist visa procedures for Americans
Getting Iran tourist visa for Americans can be done through steps as below:

Step 1: Choosing an Iranian Travel Agency for Booking a Tour
Find a reliable Iranian Travel Agency and browse through their tour packages, then ask them to book any tour that you found interesting. The step of booking a tour is mandatory which means you cannot travel to Iran without a tour and tour guide. You will be accompanied by an experienced licensed tourguide throughout your journey in Iran.
Despite what you might think, having a tour guide by your side does not invade your privacy. These guides are the best and most experienced tour guides who are trained professionally to interact with Americans. What is important for Iran government is your places of accommodation and activities during your Iran trip. If you do not have out-of-context activities and stick to your confirmed travel plan, then everything will be fine and you will enjoy your trip.
Simply put, the local travel agency confirms the validity of your travel in form of a tour. Please note that while filling out your visa form you must write all your travel plan details such as sightseeing program, overnight stay cities and the booked hotels.
.

Step 2: Sending the Required Documents to the Travel Agency
The required documents for getting you visa grant notice are as below:
-Filled out Iran visa application form which will be sent to you by the travel agency
-Copy of passport first page
-Official Photo which meets the photo size and specification requirements
-Your business or education resume covering the last 10 years
After sending the documents to the travel agency, they will take care of the rest of the procedures

Step 3: Receiving the Visa Authorization Code from the Agency
The travel agency will send you the visa authorization code as soon as it's issued by the Ministry of Foreign Affairs. This will take 30-40 working days. It can take longer depending on the Ministry's decision.
After receiving the visa authorization code you can refer to the Iran embassy which you choose in your visa form, submit the required documents mentioned below and collect your visa. Please note that you cannot choose Iran airports for collecting your Iran visa.
Since Iran has not an embassy in the USA, you can bring or post the documents to the Interest Section of the Islamic Republic of Iran at the Pakistan Embassy and collect your visa there.
The required documents for submitting at the Iran embassies to collect your Iran visa are listed below:
-Original Passport
-Authorization code
-Passport photo
-Visa fee (in cash)
Step 4: Getting Iran Tourist Visa
After the above steps, it takes almost 1 week for your visa to be issued. Your passport will be kept in the embassy during this time. After your visa is issued you can ask them to post it to you or you can take it back yourself at the same place. You will have 3 months to travel to Iran after the date your visa is issued. Please note that you can spend 30 days in Iran.
Address and contact information of Iran Interest Section in Washington
According to official announcements of this office, all documents must be submitted to the consulate before 11:00 am
The contact info of Iran Interest Section at Pakistan Embassy in Washington are as below:
Embassy of Pakistan
Interests Section of the Islamic Republic of Iran
1250 23rd ST. N.W.
Washington, D.C. 20037
Telephone: (202) 965-4990
Fax Numbers : (202) 965-1073
(202) 965-4990 (Get your forms via fax 24 hours a day)
Office Hours: Visitation & Appointments
Contact office by phone
8:00 am - 6:00 pm Monday through Friday except holidays
Contact office by email: [email protected]

https://goo.gl/maps/uGETVsksPwLm8GzR8
Getting Iran Tourist Visa in Other Iran Embassies All around the World
Since there are no direct flights from the USA to Iran then your flight will surely have a connection and therefore at least one stop before your arrival in Iran. If you are in another country then you can collect your Iran visa in the Iran Embassy at that country. To do so you must state the name of that city or country in your visa application form. Iran has more than 150 consulates in different countries of the world.
An Interesting trick to get an Iran tourist visa in a third country:
You can select one of the Iran embassies in neighboring countries such as Turkey, Qatar or Emirates to collect your Iran visa. As an example, to do this, take a ticket to Istanbul, and stay there for two nights. During this time you will do your visa procedures and also can do sightseeing in Istanbul. There are several daily flights from Istanbul, Doha, Abu Dhabi, Dubai and even Moscow to Iran, and as soon as you receive your Iran visa, you can fly to Tehran, Shiraz, Isfahan or Tabriz. Or if you are coming through land borders, Armenia and Azerbaijan can be your middle destinations to enter Iran. Turkey also has two active land borders for entering Iran

Can Americans Extend Their Iran Tourist Visa?
Since you must have a fixed travel itinerary confirmed by the Ministry of Foreign Affairs then you cannot change that while you are in Iran. Due to this reason Iran visa extension is not common for Americans but if you needed to extend your Iran visa as an American then contact us and we will follow that up for you.

Important Notes of Iran Tourist Visa for Americans:
If you are traveling to Iran as an American tourist, then keep in mind that:
-You must send your complete resume along with other documents such as Visa form, passport and photo
-Since Iran tourist visa for Americans takes longer than usual we recommend applying for your visa at least 2 months before your arrival date
-The purpose of your travel to Iran is one of the most important things that Iran government wants to know so please note to apply for the right Iran visa type according to the purpose of your trip. This is especially important for journalists and media activists traveling to Iran for related activities.
-If you have traveled to Israel before your trip to Iran and it hasn't passed at least 1 year then your visa will be rejected. In general any record of traveling to Israel will cause visa rejection
- If you are American-Iranian then you are considered as an Iranian and can travel to Iran with your Iranian passport.
-If you have an American passport but your father is Iranian then the government considers you as an Iranian and Its better to apply for getting an Iranian passport. By going to the Iranian consulate, you will receive an entry permit document and then you can follow the steps to obtain your new passport in Iran.
- If you have a second passport than your American passport then you can apply for your Iran tourist visa with your second passport as well. In this case you will be considered as an American in your Iran visa process. This does not apply to American passport holders that their second passport is British, Canadian or Israeli.