How to choose the best tour in Iran
2 months ago
Tips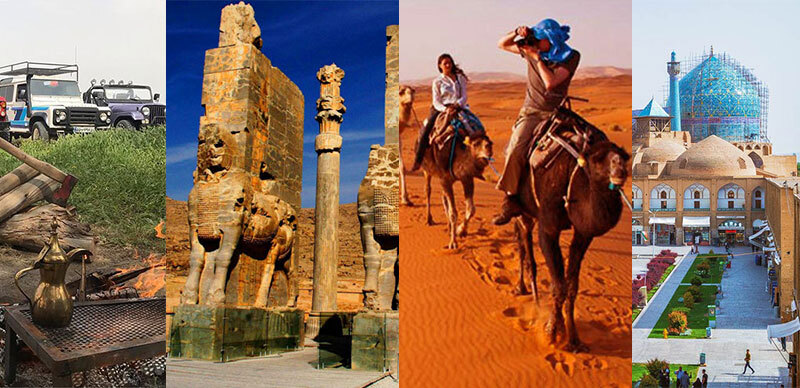 One of the first things you need before traveling to Iran is an interesting and suitable travel itinerary. Having a travel itinerary in advance is really important because of the vastness of Iran and also scattering of tourist attractions in different cities. There are several Iran travel companies that offer these kinds of itineraries in the form of Iran tours
High variety of Iran tours
Trip to Persia has designed hundreds of diverse tours in attractive categories for its travelers, each one different from the other. This high diversity in Iran tour packages is due to the large number of tourist attractions and the diversity of nature, culture and history of Iran.
If this is your first trip to Iran then you probably prefer to visit the most prominent Iran historical sites. To do this you can choose Iran classic tour packages that include famous cities like Shiraz, Isfahan, Yazd, Kashan, Kerman and Tehran.
Due to the climatic diversity in Iran, we have defined attractive nature tours that cover everything from trekking in the Hyrcanian forests to trekking in the vast desert of Lut. You can choose bird watching in Miankaleh Lagoon and Bojagh National Park or diving in the coral islands of the Persian Gulf.
If you are a lecturer or university professor and you are looking for an educational and empirical tour in the Middle East, this opportunity is well provided in Iran. We have hosted hundreds of students of architecture, various fields of engineering, clean energy, art and various fields of research who have traveled to Iran with their professors and created unique experiences.
If you have retired and you are planning a different and special trip, it is your right to have the best choice. Most of the travelers in the world these days are people over 60 years old. We know your situation well and for your comfort and convenience, we have designed Iran tours with special facilities so that you can enjoy your trip while visiting the top attractions of Iran

Choosing the best hotels and accommodations in Iran tours
One of the main necessities of enjoying a trip is to stay in a calm and pleasant atmosphere. A good night's sleep with enough facilities will help you make the most of your travel days.
Having more than 20 years of experience in organizing Iran tours helps us to have a good understanding of the tastes and interests of tourists who visit Iran. Choosing the best accommodation in Iran for you is our specialty. In each city and each tour, depending on the conditions and facilities of that destination, we provide the best option for you.
For some tourists, the best stay is at the 5-star Top Grade Hotel in the city, and for others on an adventure tour, staying in a rural camp in the heart of the desert is the most attractive option.
Our Iran travel experts will fully explain the conditions of each city and its accommodations to you before buying the tour, so that you can choose the best tour for yourself with a comprehensive knowledge of the situation.
Professional, experienced and friendly Iran tour guides
Trip to Persia tour guides are all licensed from and registered on the Iran Tourism Ministry.
To make an unforgettable and memorable experience of tours in Iran, we work with the best tour guides in the country. We understand how important is a guide to your overall evaluation of your Iran travel experience. Depending on the type of Iran tour you choose, you will not only give you a tour guide but also an expert.
Affordable Iran tours
It may seem odd, but traveling to Iran in the form of Iran tours is cost-effective in many ways, especially if the number of members in the group is more than one person.
The large number of routes and the variety of attractions make you sometimes travel from north to south and from south to west or east for two weeks in order to reach your destination. So in the 18th largest country in the world, finding the best route and itinerary will save your time and money.
We have many routes in Iran that have many unknown sights. For example, imagine you are supposed to drive from Tabriz to Tehran. You need one day to do this and you do not normally expect to see anything interesting on the way. But it is possible to design a tour on this day, for example, to see one of the UNESCO registered attractions such as Soltanieh dome on the way, or to go a little further and instead see the Hyrcanian forests as another UNESCO site of Iran along the coast of the Caspian Sea. By doing this, you just saved the cost of a separate one-day tour of the Hyrcanian forests!
Also the good news is that by booking Trip to Persia Iran tours, your Iran visa service is provided free of charge so that you can plan your trip without any worries.
Best Time to visit Iran (Best time for Iran Travel)
We have two high seasons in Iran: spring and autumn, which are equivalent to April, May, October and November. These months are the best time to participate in classic tours of Iran. But you must have heard that Iran is a four-season country, which means that whenever you choose to travel to Iran, you will find your favorite climate. This is good news for tourists who want to find affordable tours during low season.
In Iran, unlike countries of Southeast Asia, there are no monsoon rains, and on the other hand, even in the hot summers of desert cities, you will not have a serious problem due to good cooling facilities.
The best time for Iran mountaineering tours, such as climbing Damavand Peak and trekking in the Alborz and Zagros Mountains, is during the summer, because in the high mountains of Iran, the weather is not hot at all!
Iran Individual tour or Iran group tour, which one is a better idea?
Iran tours are divided into two categories: Iran individual tours and Iran group tours. The advantage of choosing Iran group tour is that it will be cheaper, because you only pay a share of the fixed costs of the tour. If you are coming to Iran with family or a group of friends then group tour is the most cost effective type that you can choose.
Generally it is not possible to change program details in group packages. Of course, if you have a large number and you need a dedicated and customized program, we will do it for you. If you have American, British and Canadian passports, you can also participate in our group tours of Iran and there is no need to buy a separate individual tour. Americans, British and Canadians, also can join to our Iran group tours and there is no need to buy a separate individual tour.
In the other hand in solo tours, everything can be adjusted according to your interests. If you are traveling alone, a solo tour is a good option. A guide-driver or a driver and guide will accompany you and increase the quality of your trip.
How many days is enough to visit Iran?
Trip to Persia's Iran tours varies from one day to one month. The most common Iran tours take 8-15 days, but if you have enough time to travel to Iran, then you can determine the length of your Iran trip according to your interests. If you are a mountaineer, 4 days are enough to climb the highest volcano in Asia, but if you like to have a little more adventure, you should go to Lut desert for a week; One of the UNESCO registered sites of Iran
Are you interested in the history of Iran? The classic Iran route tour will take you from the 6,000-year-old Silk Hill in Kashan to the 2,500-year-old Persepolis in Shiraz, and Yazd, the largest living brick city in the world. In Isfahan's Naghsh Jahan Square, you will enjoy watching the 400-year-old buildings, and in the Iranian capital, you walk on the Tabiat Bridge, designed by a young Iranian girl. You will need two weeks for this tour.
Now it's your turn to tell us what you want? Would you like to be thrilled to see various landscapes on the roads of the Iranian plateau from one city to another? Or experience the excitement of cycling on the mountainous and desert routes of Iran
Variety of food in Iran tours
Food is one of the most impressive parts of a trip to Iran. Fortunately, in Iran, all kinds of food can be found for every taste.
Most Iranian dishes are made with rice and meat. Lamb meat, beef, and camel meat are best cooked in Iran. If you are a vegetarian or vegan or have food restrictions, just let your tour leader know. The restaurants that host Iran tours are fully acquainted with the food taste of our travelers and can offer different options. You will not have any other food restrictions except pork and alcoholic beverages which are prohibited in Iran.we recommend to read Food and Drinks in Iran .

Cheap and original handicrafts and souvenirs in Iran
Iranian handicrafts and arts have always fascinated the tourists who travel to Iran.
The devaluation of the Iranian currency has caused you to buy the best handmade works of art at the most reasonable prices, which are sometimes hard for you to believe. During your Iran tour, you can buy from anywhere you like. We have not considered any hidden income or commission and therefore, you are able to buy from the best sellers at the most reasonable prices.
Iran UNESCO World Heritage tour
Until 2021, there are 26 sites belonging to Iran in the list of world Heritage of UNESCO, the majority of which are historical sites and two are natural sites. These 26 sites are located in North, South, East and West of Iran and it takes at least 3 weeks to visit them. We have designed a special tour so that you can see these fascinating sites of Iran in the best possible way. In the Iran's UNESCO world heritages, you will have the opportunity to have a complete overview of the cities and cultures of different regions of Iran. This tour is one of the most attractive tours in Iran, which is highly recommended to those who want to see best of Iran.
Iran Nomad Tour (Experience living with Iran Nomads)
Although the nomadic life in Iran is dying out, we know a number of authentic nomadic families that it is possible to accompany them through their adventurous and simple lives. You will find the experience of living in tents in the mountains and plains and being with these noble people in the Iran nomad tour.
Experience Persian cooking in Iran culinary tours
If you ask tourists who have traveled to Iran about the most prominent characteristics of Iran and Iranians, they will undoubtedly mention Iranian foods right after hospitality. Iranian foods, which include various foods and sweets, are so attractive that they persuade you to have the experience of cooking in Iran. For this reason, we have designed culinary tours for you with the presence of the most experienced Iranian chefs
Camel riding and horse riding tours in Iran plains
Imagine riding a camel on the Silk Road and crossing the central desert of Iran. You arrive at the caravanserai at night and spend the night in the same caravanserai and continue on your way again in the morning. This is truly a unique travel experience. In Iran camel riding tour, immerse yourself in the beautiful sky of the desert and watch the Milky Way galaxy in the utmost peace and safety.
Iran bird watching tour and Iran wild life tour
Iran has more than 30 national parks and about 200 wildlife sanctuaries and protected areas, whose fauna and flora are protected by Iran environmentalists. If you love wildlife tours and bird watching tours, Iran is definitely a suitable destination for you.
Although the wildlife in Iran is not the same as in Africa, it will satisfy you. In the national parks of Iran, you will go in search of the last survivors of the Asiatic cheetah. You will have the chance to see the Iranian leopard in the most beautiful rocks of Iran and you will see the raven, an endemic bird of Iran. In autumn and winter, when birds migrate from Siberia to tropical regions, Iran's wetlands and lakes host large flocks of flamingos, ducks, geese, and game birds, turning them into a birdwatcher's paradise.

A mix of Culture, History and Nature in Iran tours
Combined tours of Iran are a good opportunity for those who want to have a variety of experiences in their Iran trip. If you are tired of seeing historical monuments every day and you need variety in your plans, choose combined packages of our Iran tours. You will see the mountain lakes and the mysterious deserts along with the ancient historical places of Iran.
Middle East tour package!
If you have traveled to Dubai, Sharjah or Doha for a business trip, you are just a step away from Iran and you can easily visit the oldest civilization of the region by adding a few days to your trip. You can get an Iran visa in the UAE and Qatar, in the shortest possible time and turn your business trip into a life time experience!
There are many daily flights from the mentioned cities to different cities of Iran such as Tehran and Shiraz. It's a pity if you come all the way to the Middle East and not treat yourself to a multi-day tour of amazing Iran!
Istanbul is another city that has regular daily flights to Iran. A good suggestion for visiting the Middle East is to start the trip from Istanbul, continue it in Iran cities and leave one of the main cities towards Doha or Dubai. In this way, you can include visiting at least three attractive countries in your travel plan.
Iran Tailor made tours according to your personal interests
With ready-made and pre-defined packages, Triptopersia is ready to change the itinerary based on your interests and design a better tour for you according to your needs. Due to the high experience of the operation and sales team of Triptopersia and their vast knowledge of Iran's tourist routes, your request will be reviewed and answered in the shortest possible time.